"Called twisted, bent, lazy and weird, the Vestibules bear the imprint of the trio's many popular idols, Monty Python, SCTV, Andy Kaufman and Bugs Bunny. Their only political influence is Don Knotts"

Wanna know what's going on with the 'Bules?
We're writing a new screenplay, the details of which are top secret. All we can say is that the movie will feature dialogue, action, and a bowl of soup. Other than that, there's not much going on. Oh, Paul recently welded his Aunt to a fridge. By mistake. No other news to report.
Past happenings can be seen by clicking here.

On The Spot: A great Montreal Improv Troupe.
Sardine: The Vestibules are currently developing an animated sketch show with this
Montreal-based production company.
Kevin in Cayuga: A great fan who has had an "unofficial" Vestibules web-site on the Web for a long time.
LR Productions: The Web design company that designed this site.

| | |
| --- | --- |
| | Terence Bowman: Terence walks upright and uses tools. He has extensive experience on stage, both in theatre and in comedy, and he is currently suffering from a cold, but hopes to be over it soon. |
| | Paul Pare: Paul still believes there are little people inside the TV set. He is a former freelance writer/cartoonist whose biggest influences are Luciano Pavarotti and the letter H. |
| | Bernard Deniger: (Pronounced AA-'Rikwe-Kzoo-Mbl'e) Bernard is a musician/comedian who has been performing comedy in Montreal for many years. He enjoys long romantic walks in the rain, and repeating the word "Blubber". |
Click here to send an email to the Vestibules!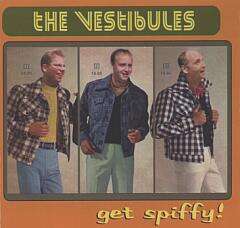 The Vestibules' second CD: For more info and some MP3 previews, click on the pic.

To buy the downloadable version of the album, click here:

To buy the actual CD, click here:
The Second Vestibules CD features FORTY really funny sketches. It's a MUST HAVE for fans of comedy, funniness, and green pants. .
CANADIAN CUSTOMERS PLEASE NOTE: ALL PAYPAL PRICES ARE IN U.S. DOLLARS.
If you want to pay by check or money order, send 15 bucks (US or CAD) to:
The Vestibules
PO Box 17
NDG Post Office
Montreal Quebec
Canada H4A 3P4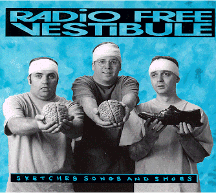 The Vestibule's First CD: For more info and some free MP3 previews, click on the pic.

To buy the DOWNLOAD of this album, click here:

If you want to buy the actual CD, click here:
CANADIAN CUSTOMERS PLEASE NOTE: All PRICES ARE IN US DOLLARS.
If you want to purchase by check or money order, send 15 dollars (US or CAD) to:
The Vestibules
PO Box 17
NDG Post Office
Montreal Quebec
Canada H4A 3P4